Perfectly tailored cover, every time
RELIABLE.
RESPONSIVE.
ROBUST.
These simple principles power our business.
Specialising in structural insurance warranties and now offering building control services, ICW strives to be the partner of choice to developers, builders, brokers and homeowners, delivering high standards of customer service with a personal touch.
Contact Us
BUILDING WARRANTIES
More than just an insurance provider, we write warranties to our clients' exact specifications to provide perfectly tailored cover. Underpinned by A-rated underwriting and delivered with a passion for customer service, our residential warranty business is now one of the UK's largest and most respected.
Read more
BUILDING CONTROL
Licensed by the Construction Industry Council, ICW Building Control is an approved inspector providing building control services in England
and Wales.
Read more
WHO WE WORK WITH?
An ICW policy provides complete confidence to each of our clients. From homeowner to developer, find out how we can build better together.
HOW WE WORK
We issue policies underwritten by A rated insurers so you can be confident that your insurer has the financial strength to meet their obligations when you need it most.
ICW Building Control is a CICAIR approved inspector providing building control services in England and Wales.
We have a thorough inspection routine & our national network of chartered surveyors go beyond what's required to ensure each project is a success.
We operate the ICW Consumer Code for New Homes to support developers and protect homeowners.
We are one of the largest suppliers of home warranties in the UK with tens of thousands of projects on cover
ICW are one of a few national warranty providers to have had their Consumer Code certified by the Chartered Trading Standards Institute.
The percentage of mortgage lenders, based on volume, are served by us.
Client Portal
In order to continue to provide excellent customer service, the ICW client portal has been designed with clients in mind to provide project information at the click of a mouse.
Login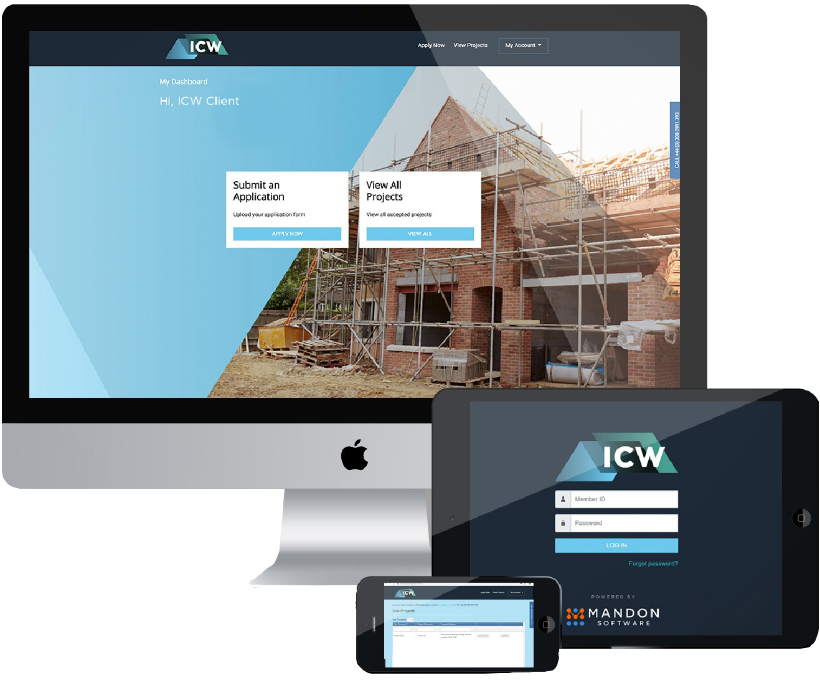 Current vacancies
Our people deliver and we pride ourselves on being customer focused, value driven and quality-led. Our team of professionals work collaboratively internally to ensure that we keep our promises to our clients and that's what sets us apart and keeps us ahead.
View Careers